Stress Sucks – A Girl's Guide to Managing School, Friends, and Life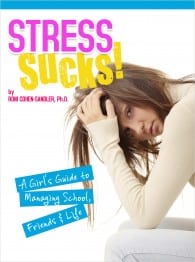 A Girl's Guide to Managing School, Friends, and Life
Help has arrived!  Today's teen girls are experiencing unparalleled pressure to be popular, stay thin , look good, excel in school, and shine in extracurricular activities. They hide their unhappiness, ignore chronic exhaustion, and blame themselves for their struggles because they think:
stress is simply the price of getting into the "right" college, and
They're the only ones who can't handle the pressure.  But teen stress is taking an enormous toll, and by the time girls get to college they are in worse psychological shape than ever before.
Stress Sucks! A Girl's Guide to Managing School, Friends, and Life empowers this generation of girls to think and act differently, to take charge and restore balance in their lives, to play to their strengths, and to stay healthy and achieve their goals with confidence and self esteem.
Using a straight-forward approach based on research, clinical experience, and the voices of real girls, Dr. Roni (as young people call her) urges teens to take an honest look at how much stress they're enduring, to identify where it's coming from, and to realize how toxic it is to their mood, energy level, self-esteem, and ability to learn.  She helps girls evaluate their feelings, study habits, and lifestyles (i.e. sleep patterns, nutrition, technology use) to decide what is and what ISN'T working for them. In this process, Stress Sucks! addresses procrastination; perfection and mistakes; relationship challenges with friends, parents, teachers, and coaches; and the whole college admissions process.
Most important, Dr. Roni gives girls sensible and easy-to-follow suggestions to adjust their attitudes, calm their emotions, quiet their minds, and focus their thoughts.  This teenage self help guide will not  only help girls lower their stress levels, but over time they will develop better resiliency and stress management strategies.  Full of amazing and eye-opening information, Stress Sucks! empowersteen girls to make self-disciplined choices, practice good self-care, and trust their inner voices so they become the healthy, competent, and confident young women they are meant to be.